You can not play and complete Pokemon Dark Rising easily like you expected. No worrry, you are not the only person has that feeling. There are a lot of people like you. The game is so interesing and popular because of its wonderful gameplay and special events. If you are stuck in Pokemon Dark Rising and need the helps from other players, we provide the Full Pokemon Dark Rising Walkthrough with Text and Videos.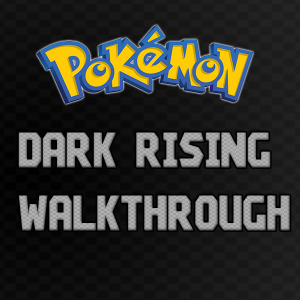 Pokemon Dark Rising Walkthrough
1. The button controls for the game (default settings in VBA)
Keyboard Button – In-Game Button
Move Up – Up Arrow
Move Down – Down Arrow
Move Left – Left Arrow
Move Right – Right Arrow
Z – B
X – A
Backspace – Select
Enter – Start
After the basic guide, next part is your walkthrough.
2. Pokemon Dark Rising Walkthrough Official (TEXT)
This is the Official Walkthrough from Alienhunterx. After he finished this hack, he started to make this guide because he wants to help other players to finish this hack. In his walkthrough, everything in this hack is contained and packed, from the big missions to the secret missions. If you read and use this guide, you will never skip anything. We recommend you to use this walkthrough if you have much time.
3. Pokemon Dark Rising Walkthrough (Video)
If you don't like reading so much, you can see this walkthrough made by TheKingNappy. You only need to load these below videos and play as well as them. The walkthrough is divided into 17 parts with each title for each video.
Part 1 "Meng"

Part 2 "Progress?"

Part 3 "The First Badge"


Part 4 "Nappy's Lagging"
Part 5 "What's Bad YouTube?!"

Part 6 "TRAINING TRAINERS"

Part 7 "Nappy Can't Win"

Part 8 "Catching Up"

Part 9 "Another Gym!?"

Part 10 "GO WEST CALLUM!"

Part 11 "SCARFTY"

Part 12 "NABBY GETS REKT"

Part 13 "TitduckTHEGREAT"

Part 14 "A Shiny Faggot"

Part 15 "Lvl 100"

Part 16 "1 StPart Forward, 2 Steps Back"

Part 17 "This Game Is Dumb"

Now you have finished this Hack. If you want to continue this story, you can read informations about the second part and download it.